About Epoxy Flooring
Epoxy "systems" are based on a combination of resins and hardeners. When mixed together, the resin and hardener chemically react to form a rigid plastic material. The final material is strong, durable, resistant, and bonds extremely well to most base layers. Epoxy floors are so strong that they're often used in heavy traffic areas such as industrial environments, hospitals, or sports facilities.
Self-Leveling Epoxy Floors
Self-leveling epoxy is applied over new, old, cracked, or damaged concrete floors to create a smooth, seamless, durable, and low maintenance flooring surface. The self-leveling system is also available in a variety of colors. Colors are used to make decorative designs, denote traffic patterns, or highlight work zones in industrial settings. This system is used when you need aesthetic appeal and/or abrasion, chemical, heat or slip resistance.
Quartz-Filled Epoxy Floors
Quartz epoxy flooring systems combine high-performance epoxy polymer resin with colored quartz grains. The result is a multi-functional floor that's decorative, sanitary, slip-resistant, and exceptionally durable.
Epoxy Flake Floors
Flake floor systems are made when colored chips or flakes are placed within the epoxy to create vibrant, multi-hued, seamless, resilient surfaces. The chips are not only aesthetically pleasing, but their slightly rough surface reduces slips and falls. The flakes are available in an endless variety of colors, styles, textures, and sizes and can be mixed into the combination of your choice.
Benefits of Epoxy Flooring
Durability
Concrete floors coated in epoxy last longer and resist considerable wear, thus saving you money and allowing you to manage other business concerns.
Strength
Once the epoxy has been converted to a solid polymer, it becomes incredibly strong and prevents chemical breakdown.

Low Maintenance Cleaning
Once concrete has the epoxy coating, it is no longer porous since it is sealed and is therefore easier to clean.
Aesthetic
Coatings are usually available in an array of colors and patterns to fit your specific style.
Chemically Resistant
Epoxy coatings can survive continued exposure to potent chemicals, which is perfect for warehouses or plants that may be exposed to such materials.
Safety
These coatings are also resistant to slippage, temperature, extreme impact, and even fire, maintaining both the safety of your employees and your building.
Brightness
Typically, a high gloss option for coatings can be provided, which improves lighting in your facility to a significant degree due to reflection.

Lowers Vehicle Maintenance
Choosing an epoxy coating can also reduce wear on vehicles in your facility because it is more forgiving on machinery.

Helps the Environment
Lastly, epoxy coatings are a green option for your business because of the reduction in material usage. It is a great alternative to adding on a completely new floor or replacing vehicles due to damage.
Contact MAC Concrete Coatings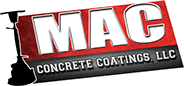 MAC Concrete Coatings, LLC.
124 W 1340 S
Farmington, UT 84025
(801) 699-0554