MAC Concrete Coatings specializes in concrete acid staining, garage floor coatings, concrete sealing, crack repair, patching, and custom design. We do interior and exterior work and serve homes and businesses.
We have 10 years experience and are licensed and insured. We ensure our customer's satisfaction. We are based in Farmington, but we have done work all over Utah. Contact us for a free estimate, we can make all your visions come alive!
Why Use a Concrete Stain
It boils down to one word: character. Concrete stain does more than simply add color. Rather than produce a solid, opaque effect like paint or colored coatings, stains permeate the concrete to infuse it with rich, deep, translucent tones. It is important to keep in mind even when treated with the same staining product in the same shade, no two concrete floors will look alike. It's this variability, rather than uniformity, that gives stained concrete its broad appeal and permits an infinite array of special effects.
Contact MAC Concrete Coatings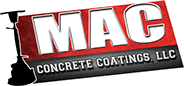 MAC Concrete Coatings, LLC.
124 W 1340 S
Farmington, UT 84025
(801) 699-0554