Concrete Acid Staining
Acid Stain is not a paint or a coating agent, rather, it's a coloring process involving a chemical reaction on a cementitious material. A solution made with water, acid, and inorganic salts reacts with minerals already present in the concrete, the result of this reaction is color. It works very well on new or old concrete. Acid Stain is a very durable product if properly protected with sealer, and can be applied to both interiors and exteriors. It can be applied to walks, entrances, driveways, living rooms, bathrooms, patios, high traffic areas, and even vertically to any cementitious surface
Epoxy Coatings
Epoxy refers to a system that is made up of two main components – resins and hardeners. The resin and hardener are mixed together where they chemically react to form a rigid plastic material that is strong, resistant to degradation, and bonds extremely well to its substrate. Epoxy floors are so strong that they can be used in even the most demanding of industrial environments.
Epoxy floors with quartz sand – same as a self-dispersing epoxy floor but with excellent anti slip properties.
Garage Floor Coatings
These floors are epoxy based but they actually have colored chips or flakes laid within the floors for decoration. The flakes also provide a slightly rough surface that provides good anti slip qualities. The flakes come in different colors and can be mixed in the combination of your choice.
Retaining Wall Staining
If you have a concrete retaining wall on your property, you want to make it look as nice as possible. The concrete retaining wall is often a dull gray color or white washed, but you can stain it to be many other colors.
Concrete Repair
Cracks, chips, patching, and more.
Custom Design
We can do almost any pattern (diamonds, square, circles, borders, and more).
Contact MAC Concrete Coatings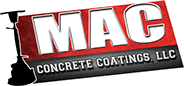 MAC Concrete Coatings, LLC.
124 W 1340 S
Farmington, UT 84025
(801) 699-0554